maternal chain of office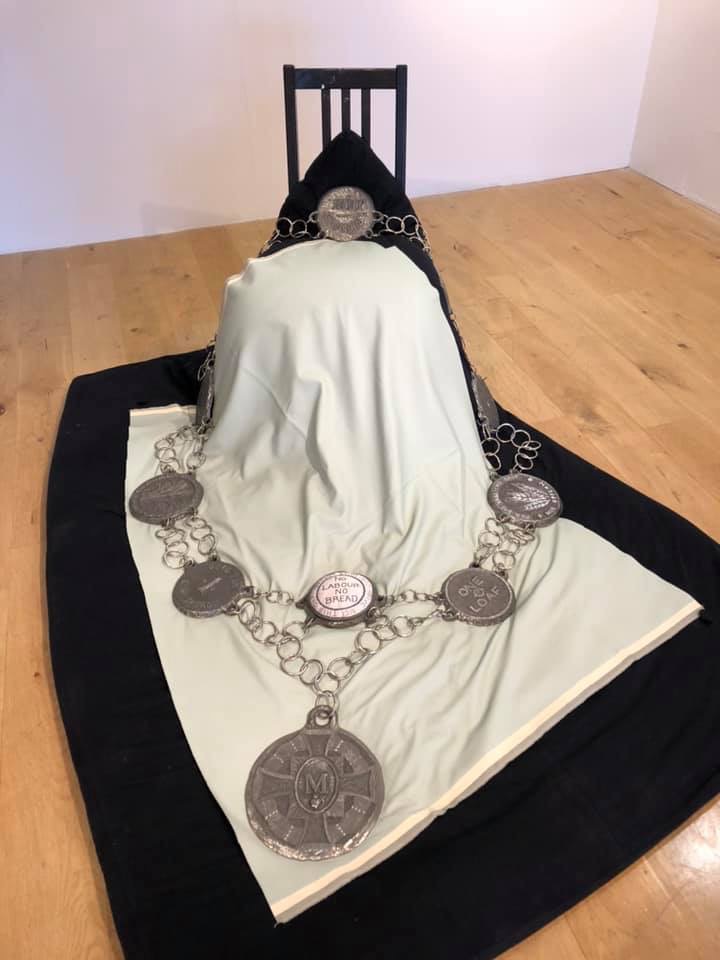 Maternal Chain of Office - Order of Our Blessed Lady of the Food Bank - 2018
hand cast iron, steel, silk, hand embroidery.
The chain of office or livery collar belongs to a medieval history of swearing oaths and allegiances to people in power who are supposed to act in the interests of the greater good. The badge or device at the centre indicated the person the livery related to. The centre piece here is a combined Order of Parental Glory/ Miraculous Medal design. The order of Parental Glory was established in 2008 (by presidential decree) to reward deserving parents of exceptionally large families. It was based upon the soviet order "Mother Heroine" and belongs in the pronatalist ideology. So on one hand you have governments and ideologies that are all about birth-rate and on the other hand you have a lack of resources and support in particular for poor women who have larger families hence the Miraculous Medal (apparently the Virgin Mary appeared to Saint Catherine Labouré on the eve of feast of St. Vincent de Paul to task her with this mission of making the medal complete with design instructions). The M stands for Mother and her immaculate heart is pierced by a knife in a foretelling of the fate of her child. It also plays to the idea of the deserving and undeserving poor. The rest of the tokens are bread tokens which were used historically in times of austerity and war ie war effort/ food production tokens linking food and war.
Tokens left to right; Bamby bread token, Missouri; Chinese Order of the Golden Grain/Splendid Harvest/Bountiful Harvest - 1912 (awarded for outstanding civil or military achievement in meeting the demands of feeding a vast population in the face of drought and floods) ; Half loaf bread token, Shanghai; War Food donation token, Germany 1914, with the motto Without Bread, No Victory; Bread token, Iceland 1900; Women's Land Army Badge WW2; China token society bread token, half loaf; War Food Donation badge, Germany, WW2 with motto We Sacrifice for the Daily Bread; Australian Bread token, pioneer bakery, one loaf.
Made with the support of the IRON-R18 research project.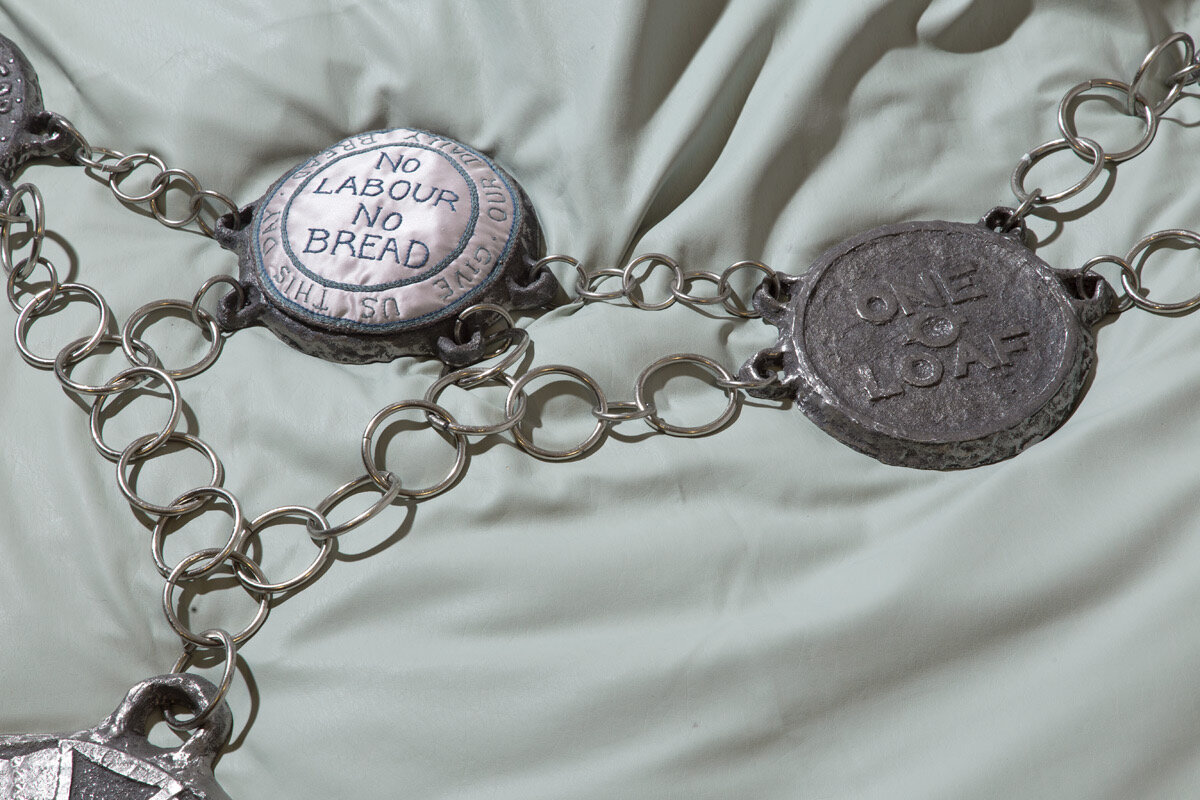 Maternal chain of Office - Order of Our Lady of the Blessed Food Bank - 2018
No Labour, No Bread - detail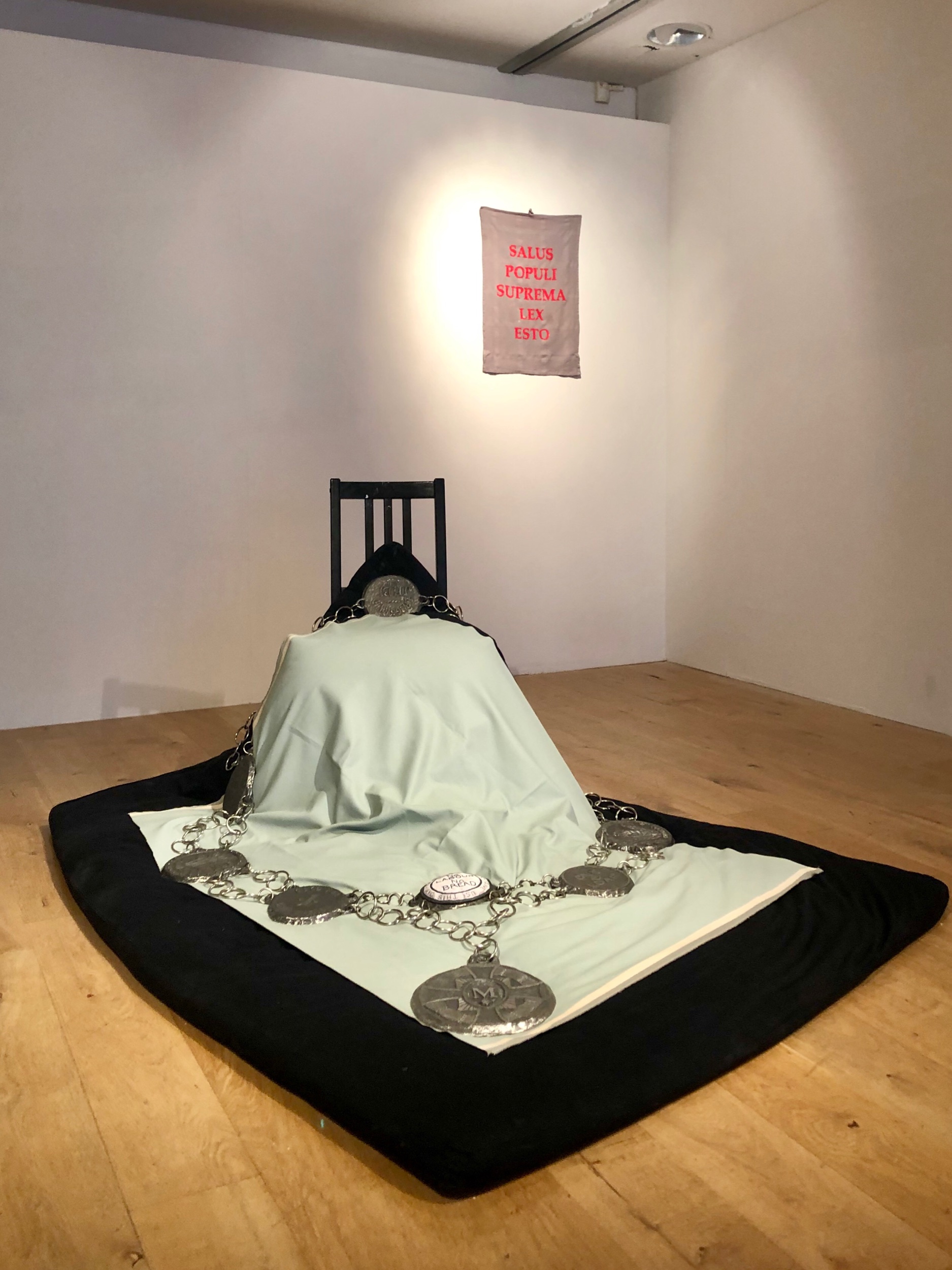 Maternal Chain of Office - Order of Our Lady of the Blessed Food Bank - 2018
hand cast iron, steel, silk, embroidery
made with the support of the IRON-R18 research project.